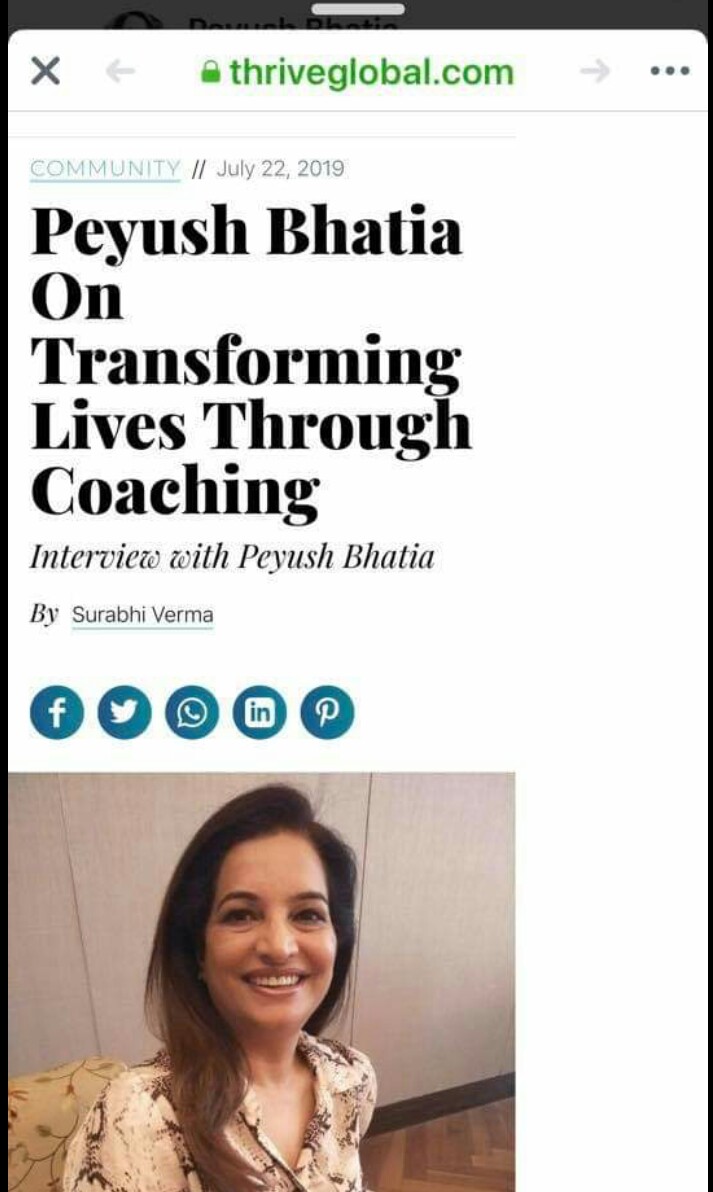 Q1. Tell us about your work, what do you do currently, and since how long have you been doing it.
I am a certified Life Coach and Business Coach, Energy Healer, Arhatic Yogi and I use these skills and knowledge to facilitate people come out of the dark and difficult phases of their life, explore their inner strength and emerge out much happier and closer to their life's goals. I also hold an Engineering degree in Electronics & communication which helps me use science and related concepts of quantum physics and neuroplasticity alongside spirituality to ensure a holistic development of those I connect with.
My work involves people from all walks of life and facing different sorts of challenges. Thus, I deal with corporate bodies, working professionals, housewives, parents, children, etc. and help them overcome their individual obstacles. The topics vary between emotion management, relationship building, manifestation, money, happiness, anger, communication, leadership, parenting, childhood healing and numerous others, my niche being depression and relationships. In my journey as a life coach and therapists I have learnt one thing – unless the mind, body, soul and emotions are in alignment, one can never be happy and successful. Thus, my therapies involve a customized solution for each of my clients with the goal being to create this alignment. Once they are able to do this, nothing can stop them from exploding and getting to their true potential. It is amazing to see them walk up to me with a heavy baggage and walk out with a unique sense of confidence and 'ready to face the world, come what may' attitude. This is what I see as my achievement as their healer.
I also offer a one-year course in life coaching which helps the students to first work on and improve their life and then learn the finer nuances of becoming a life coach. They are verified and certified as life coach, business coach and energy healer in this duration and are ready to help many others in distress and at their life's bottom.
Other than this, I also run two Non-Profit Organizations – Maadhyam and Lifestyle Philanthropic Works Society which aims to educate the underprivileged children and serve people from the marginalized communities.
"When we can't stop what's happening, we still can choose to respond to it in a certain way. Our power lies in making the right choice."

Q2. - Describe in detail what inspired you to create and follow your current passion/ job/ project. How did it all begin? Walk us through your journey in detail.
My journey started about 14 years ago when I was facing my own share of challenges in life. The problems inspired me to find solutions and led me to a long quest that helped me to seek one answer after the other.

My childhood was a mixed bag. My mother and father were very religious people who always told me that everything in life happens for a reason and that life is a journey and we need to learn our lessons. However, I being from a convent-education background and an engineer, had quite a logical mind and always sought reasoning in things. So, when life threw challenges at me, I went back to the inherited spirituality and started to look for the science behind our old beliefs and scriptures and found enough evidence that the two co-existed. I follow that approach till date and my entire work functions on the blend of science and spirituality.

Starting this quest with Landmark Education, I went to different individual forums, each of which taught me about brain, emotions, mind, body, soul, our origin, karma, healing and so on. Each time I learnt a piece of information from somewhere and applied it in my life, I realized that I could only solve a part of my problem till I found myself stuck again. Then I had to move further and acquire the next learning. The need to fix all my problems intensified my quest. This was also when I realized that it is important to have a system or organization that can help someone acquire all the knowledge at a single place and make their life work with lesser efforts. That is how the idea of life coaching program came into my mind (which took shape much later) – a single program that offers all tools and techniques to master the mind, body, soul and emotions at one place.

Once I could solve my own problems and my life went full throttle, I could see that living a happy, successful and fulfilling life is much easier than I thought. I started thinking that "when I can live it, others can live it too; why not help them?" It was then that I started working with people around me and eventually it turned into a profession. The process of getting certified from various domestic and international organizations and upgrading myself continuously also took off.

"No one can defeat you unless you give up. Use challenges as stepping stones. Take charge of you own life. Play to succeed."

Q3. - How do you serve your clients? What are the services you offer?
The best part about my profession is that it can be applied to all sections of humanity and can lift anyone from their limiting beliefs to find and fulfil their true calling. Depending upon the person's needs and challenges, they can approach me in any of the following ways:-

One-on-one sessions – These are exclusive sessions where I meet one person per session and help them overcome their challenges. Spending focused time and efforts with someone is very empowering and I have been able to resolve issues, the gravest of them, in just a few sessions. Though I deal with different problems in these sessions, I feel the happiest when I am able to mend a relationship and put it on the right track or cure a patient from depression.

Corporate trainings – My training sessions are high-energy, motivating and very interactive and comprise of people from mid-higher management or a team of employees from various departments. The topic usually revolves between communication, leadership, diversity, employee engagement, emotional intelligence, productivity and so on.

Seminars workshops – They are informal engagement activities and sessions with a group of people to assist them with tools and techniques that can boost productivity, self-confidence or help them achieve their goals.

Life of joy school – In my years of experience as a life coach, I felt the persistent need to add more people to the life coaching force who could help the millions of people living a miserable life. The one-year life coaching program at Life of Joy School helps its candidates to resolve their own challenges, unleash their true potential, be successful and then get certified as a life and business coach for others.

Q4. - Any experiences your clients had which you would want to share with the world.
There are very many but I would like to quote two in particular. One of the best moments for me as a life coach was when I could cure a 29-year girl from anxiety. When I met her for the first time, she suffered from severe anxiety attacks and was miserable. In a few sessions she not just stopped having the attacks but was also weaned from strong medications.

Another patient had allergy, bronchitis and sciatica and was suffering a lot of pain. I worked on her at all levels- emotional, physical, mental & soul. The improvement was very fast and she got cured much before we had expected.

Q5. - What does your daily routine look like?
Have you seen a merry-go-round? Anyone can hop on to it when it moves slowly. But, as it gains momentum, it becomes nearly impossible to hop on. Just like that, if we are vibrating on a low frequency, negative emotions like anger, fear, jealously, can hop on and affect us and if on a high-frequency, we only attract the positive vibrations to ourselves. A day that remains on a higher note can put you on higher frequency throughout. This is how what my daily routine comprises of – positive vibrations to attract positive energy.

"Energy comes back to you in the same proportion as you radiate to the universe. Knowing how to control your energy and vibration will help you control everything about you."

The mornings begin with a lot of affirmations, meditation and kriya along with a barefoot walk on the grass and rigorous run on the track. Each day, I make it a point to learn something new and add value to my knowledge bank. I schedule my day and prioritize my task list with the most important task on the top. Putting things in a black and while list puts the mental chatter to rest and gives a clear sense of purpose every day.

To ensure that only positive energy flows into me throughout the day, I keep a mental check on myself every hour. Every hour, I take a few seconds break to check where my thoughts are and whether they are aligned with my purpose or not. This goes a long way in helping me to not deviate and get into a negative spiral.

In this fast-paced life, we forget to appreciate the smaller things in life. So, the day ends with gratitude. A lot of it. I appreciate the beautiful gifts of life such as my health, my relationships, a place to sleep, another beautiful day to live, and many more.

Q6. - What are your favorite books, authors, role models?
My favourite authors are Debbie Ford, Joe Dispenza, Gregg Branden, Wayne Dyer and Joe Vitals. Favourite books are 'Autobiography of a yogi', 'Dark side of light chasers', 'Becoming Supernatural' and 'Essence of Bhagwad Gita'.

My role model are my parents from where I inherit the unstoppable fearless and never give up attitude. My mom always used to say this one thing that I deeply admire and try to apply – "whatever you want in life give it to others". So, if u want spiritual growth help someone else rise spiritually. I am doing the same today.

Q7. – What do you want to achieve being a life coach?
Look around. You will see so many people suffering and in depression. They have no idea of their capability and are hidden in their shells. My dream is to help people become self-sufficient and self-dependent for handling situations in their life. They should be able to deal with crisis and find opportunities in them. It is very important that the younger generation, our children also feel empowered rights since their childhood. They should be brought up in an environment where they know how to deal with situations and bloom to their fullest. And this can only happen when parents are more aware and can offer them good parenting. Thus, for the complete society and humanity to rise up, it is important for life coaching to be available to the masses. And for that we need life coaches from all walks of life and different backgrounds.

I aim to address this part of the problem – creating life coaches who are capable of handling their life and helping others life their happiest. The Life of Joy school of coaching is an attempt in this direction.

Q8. - Any advice to the coming of age life coaches? What should they keep in mind before taking up life coaching as a full-time career?
"Make sure your life is working before you coach someone." I think that this is the most precious piece of advice that I can give to all those aspiring to be a life coach. Unless your life will work and you will be able to find peace, happiness and success within yourself, it will be impossible for you to help others find it.

"You can reach your goal, however difficult or distant it may seem. Just stick on to your vision and keep the faith burning. One day at a time, you will certainly make it there."